In this article, we have shared about the Best WhatsApp Alternative in 2021. It will help users to know beside WhatsApp how many alternatives are available now. Because many WhatsApp users are going to shift to another messenger's app and they don't know which is the best alternatives to WhatsApp.
What is WhatsApp?
WhatsApp is a free downloaded messaging app that allows users to connect with users on their phone's contact list via a connection to the Internet and enjoy text messages, photos, videos, audio, and video calls. WhatsApp was created in 2009, which was later merged with Facebook in 2014, and is currently operated by Facebook. So along with the increase in the use of social media, WhatsApp has gained a lot of popularity.
But nowadays there are many more popular and user-friendly messenger apps besides WhatsApp which are able to meet the needs of the users. Because a lot of times users have to face different kinds of problems and users feel annoyed.
As a result, there is a fear that the personal information of the users will be opened in front of everyone and the users start losing faith in the particular app. Because no users want their personal information to be made public.
So in this article, we will know which are the Best WhatsApp Alternative in 2021:
1.

Signal: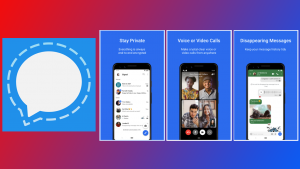 Signal is a free, privacy-oriented messaging and talking app available on Android and Apple phones. Users can also use it on their desktop, just like WhatsApp. If you want to use Signal, you need to create a profile by signing up with a phone number and you can enjoy all its features. So now we will know some information about this application.
Pros:

i. There are many reasons why people use signals instead of WhatsApp, most notably audio and video calls, which are possible through this application.


ii. The customer is never charged for using the Signal. It is a completely free application, which requires users to have an internet connection on their device.


iii. The blur effect can be added when taking pictures on the signal, which is not available in WhatsApp.


iv. Through this, a maximum of 6 users can join and make a video call. There is also the option of group video calls.


v. A user gets a chance to delete a message sent to another user later. For this, the user has to set the time in advance, after 5 minutes or a maximum of 1 week, they will be able to delete the message.


vi. The most interesting thing about this application is the end-to-end encrypted. So no third party user can know anything about them except the conversation between the users.
Cons:

i. Signal application users have reported that their mobile phone charges are rapidly declining as a result of using this application.


ii. Mobile heating is also a major cause.
2.

Telegram: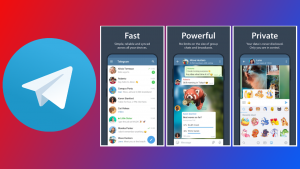 Telegram is a popular mobile messaging app that works like WhatsApp or Facebook Messenger. WIFI or mobile data is required to use it. So users can send messages to their friends through this app while they are connected to the internet. The Telegram authorities claim that they are very responsible for protecting users' personal information and that its speed is much faster than that of other messaging apps.
Telegram first debuted in 2013 and currently has 200 million monthly users. The main feature of Telegram is the protection of the customers. Conversations between customers are completely encrypted, so no group or user information can be known to another user. If you are looking for Best WhatsApp Alternative in 2021, this will be the best option for you. So now let's discuss some features of Telegram:
Pros:

i. A user can send a file up to a maximum of 2GB to another user via Telegram. Which cannot be done through WhatsApp.


ii. Here you can easily find your friend without a phone number. Because if you type your friend's name in the search bar of the telegram, the names of other people who use the Telegram with that name are shown there.


iii. Telegram has a massage scheduling system. If any user wants to send a message to their friend after some time, then if they set a time, their friend will get the message at the specified time.


iv. Message Send, Receive, or Seen icons are also stored here. In other words, the whole alternative of WhatsApp can be found in Telegram.


v. If any user wants to send pictures or videos, it is easy through this app.
Cons:

i. Since searching for someone's name in a telegram shows the names of many users, who can ping an unknown user.
3.

Threema: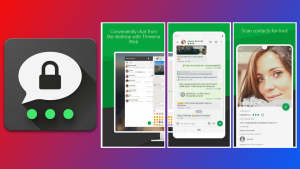 Whenever people search for the Best WhatsApp Alternative for various reasons, they do not find any authentic alternative. Threema is an end-to-end encrypted paid instant messaging application available on Android and iOS.
Threema is committed to giving customers the complete protection of information. Because they claim that conversations between users or a group are completely secret. However, the complete information is not stored in the App, it is stored in the customer's phone.
Threema has its own feature, users can use an 8-digit Threema ID instead of a phone number if they want to connect with other users. You will also be able to verify other contacts via secure QR codes. So let's see why people use Threema:
Prose:

i. Threema is typically designed to create data on a technically small server. But they provide a 100% guarantee of user privacy.


ii. Providing phone numbers to new customers to use Threema is not recommended. As a result, users will be encouraged to enjoy the new massaging interface.


iii. Threema apps are completely open-source because they have come up with innovative ways to provide complete transparency for users, which no other app provides.


iv. Users will be able to enjoy the text formatting feature here and have chats protected with full passwords. As a result, users or individuals other than users cannot be aware of any information or chat.


v. Users can use phone numbers or email ids to search for other users. But before that, the users have to give permission to the application to synchronize their address book.
Cons:

i. Threema is a Paid application, so they are also transparent about customer service.
4.

Wire: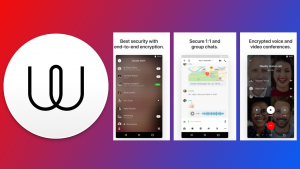 There are various messaging applications end-to-end encrypted and the most notable of which is Wire. With this app created by Wire Swiss, users can stay connected and send messages. This application is available on Android, iOS, Windows, macOS, Linux, and web browsers.
Wire has team administrator features that enable users to add or remove users as well as provide role-based control. Users can manage custom messages, record chat history, schedule messages, and share multimedia documents and files with team members via the group chat feature. So they are looking at the privacy of the users and they are attracting people from different platforms.
Like WhatsApp, you can communicate with other users through video calls. So now let's discuss some of the features of Wire, how convenient it is to use.
Pros:

i. People usually love to chat through the messenger app. So one of the main features of Wire is the easy way to chat, which is very easy to set up.


ii. Self-destruct messages make it easy to share sensitive information. The quality of their secure voice calls and video calls attracts more customers.


iii. Another attraction of this application is that it can be used by users on 8 devices at the same time. So it provides an additional feature to the users.


iv. It also provides great response for users to send messages on time. Because no user wants their message to reach their friends after a while.


v. This application is very easy to use and set up, which is observed as a suitable medium for users to use.
Cons:

i. This is a paid application, so many users may look for other alternatives.
5.

Discord: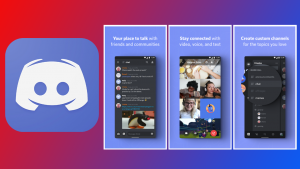 When people want to shift from one messenger platform to another, they always have this thought in their mind about how comfortable the platform of the future will be from the previous platform. But when the time comes to search for the Best WhatsApp Alternative, various researches and the previous history are required.
Now Discord is not just a means to stay connected with your fellow gamers. Here you can chat with other users, send pictures or documents, and explore different Discord servers. The Discord is usually split on the server. So each of them has its own members, topics, rules, and channels, who can chat among themselves. This application runs on Android, Windows, macOS, iOS, Linux, iPadOS, and in web browsers. So all people can enjoy the benefits of this app.
So now let's see what benefits users can enjoy through this application.
Pros:

i. Since this app is made for people who love games, here different gamers get the facility to communicate among themselves and chat easily.


ii. Users can communicate with each other through images, documents, voice or video calls, which must give users a good feeling.


iii. If any user is interested in any gamer, they can send them a direct message and also create a group themselves.


iv. If you need more capacity, you can create a server yourself. Because Dikrat gives permission to the users.
Cons:

i. Discord Nitro is a premium subscription.
Conclusion:
WhatsApp is a popular and great app in the world of massage, which succeeds in meeting the needs of the users and the users are constantly involved in its use. So users do not want to easily find alternatives to this app. Because when users are enjoying different entertainment from the same place they are more attracted to it. But sometimes there are times when users want to try something new to enjoy something better. So for their convenience, this article discusses the 5 Best Alternative to WhatsApp, which will help meet the needs of users.
If you like reading the article, don't forget to comment in the comment box below.